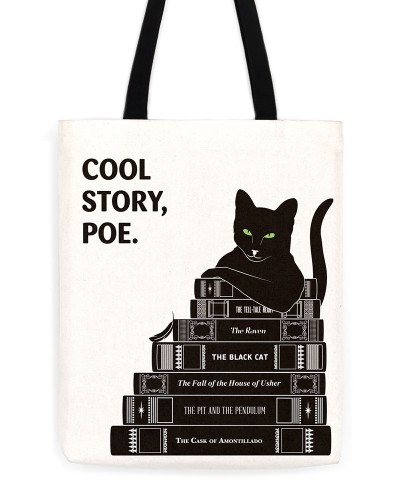 Edgar Allan Poe "Cool Story, Poe" Tote
Tote
Price: $19.95
Out of stock
Available from:
Publication Date: July 3, 2018
Imprint: Obvious State
Trim Size: 13 x 15
ISBN: 063-4392438-03-7
Edgar Allan Poe once opined, "Of puns, it has been said that they who most dislike them are least able to utter them."
Well Poe, we love them. Spend a little time with the master of horror, and you'll meet some colorful characters: Paranoids, sociopaths, demons, harbingers of doom. But none are quite so nefariousness as our favorite: the black cat. Axe wielding madman? Please, too slow! Evil spirits? Yawn. He eats evil spirits for breakfast.
Now where did that raven get to?
This structured, sturdy tote fits the essentials and includes a roomy interior pocket so you don't have dig for your cellphone and keys.
13" x 15" with 24" handles
Handmade and printed in Brooklyn, NY
Premium, heavy 100% natural cotton canvas
Hand-pulled print, colors may vary slightly
Extra long black handles, 1" gusset
About the author
Obvious State is a creative studio in pursuit of wisdom and beauty. They are inspired by provocative language that has stood the test of time, poetry that captures the beauty of the human experience, and philosophy that drives us to examine and re-examine. They aim to create art and thoughtfully designed gifts that prompt conversations and bring aesthetic joy to everyday objects. All Obvious State goods are meticulously crafted in the United States and printed on the finest papers and materials. After all, beautiful language deserves beautiful treatment.