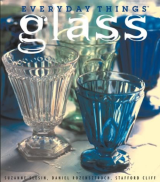 Imprint: Abrams Books
Publication Date: October 1, 2001
Price: $35.00
Trim Size: 8 1⁄2 x 9 3⁄4
ISBN: 978-0-8109-0620-4
EAN: 9780810906204
Page Count: 160
Format: Hardcover
Lifestyle experts Suzanne Slesin, Daniel Rozensztroch, and Stafford Cliff, whose previous books have proclaimed the pleasures of collecting such everyday items as garden tools and kitchen ceramics, now shine their spotlight on glass. Featuring cruets and canisters, inkwells and lanterns, pitchers and paperweights, Glass shows how a discriminating eye can uncover a wide assortment of practical and decorative finds at flea markets and antique shops, and offers creative ways to adapt them to today's interiors. Luminous color photographs capture the ethereal qualities of vintage glass with its transparent hues, jewel-like facets or florid etchings, pressed patterns, and pleasing forms. The range of objects in this book is sure to appeal to casual enthusiasts and dedicated collectors alike.
About the authors
Suzanne Slesin is editor-in-chief of Homestyle magazine in New York and co-author of the well-known Style series, including Japanese Style, Caribbean Style, and New York Style, and the Everyday Things series, including Wire, Garden Tools, and Kitchen Ceramics. Daniel Rozensztroch, the Paris-based co-author of the Everyday Things series, is creative director of Marie Claire Maison. Stafford Cliff, the London-based author of Abrams' The English Archive of Design and Decoration and The French Archive of Design and Decoration, is designer and co-author of the Everyday Things series. Marie-Pierre Morel's photographs often appear in Marie Claire Maison.