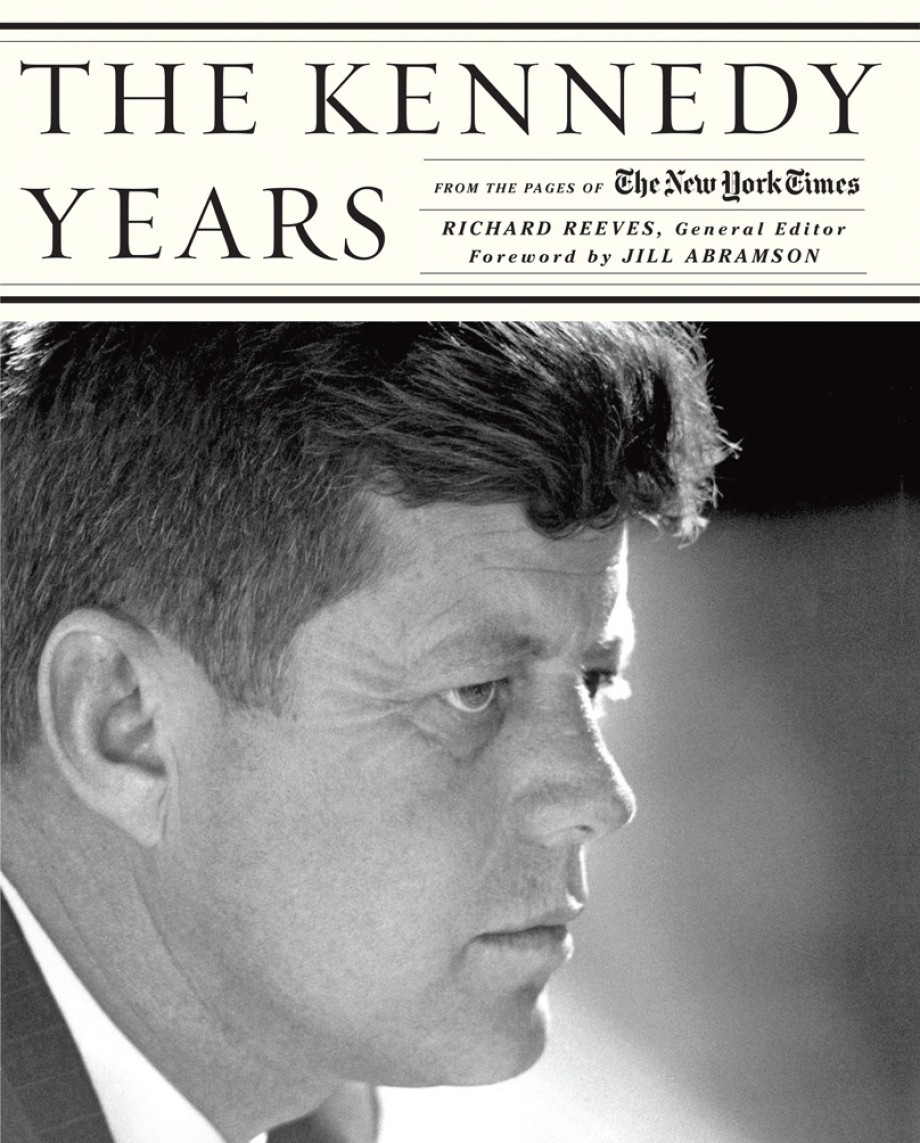 The Kennedy Years: From the Pages of The New York Times
Ebook
Price: $19.99
Available from:
Publication Date: October 22, 2013
Imprint: Abrams Books
Trim Size: 8 1⁄2 x 10 7⁄8
ISBN: 978-1-61312-563-2
Page Count: 400
Illustrations: 150 color and black and white photos
Rights: World/All
The year 2013 is the 50th anniversary year of the assassination of John F. Kennedy, who still ranks as one of the top five presidents in every major annual survey. To commemorate the man and his time in office, the New York Times has authorized a book, edited by Richard Reeves, based on its unsurpassed coverage of the tumultuous Kennedy era. The Civil Rights Movement, the Bay of Pigs, the Cuban Missile Crisis, Vietnam, the space program, the Berlin Wall—all are covered in articles by the era's top reporters, among them David Halberstam, Russell Baker, and James Reston. Also included are new essays by leading historians such as Robert Dallek and Terry Golway, and by Times journalists, including Sam Tanenhaus, Scott Shane, Alessandra Stanley, and Roger Cohen. With more than 125 color and black-and-white photos, this is the ultimate volume on one of history's most fascinating figures.
"This book is both fascinating and poignant. It brings us back into the Kennedy years while also allowing us to reflect on what made them so emotional. I found myself totally immersed."
—Walter Isaacson, author of Steve Jobs and Benjamin Franklin: An American Life
 "A deeply illuminating, journalistic romp through Camelot from the eyes and minds of the great New York Times reporters of that era and beyond. It's an important contribution to our nation's ever growing U.S. presidential history library. Richard Reeves has corralled the best and the brightest Kennedy scholars to offer fact-checked wisdom. Highly recommended."  
—Douglas Brinkley, author of Cronkite, The Wilderness Warrior, and The Great Deluge.        
 "The New York Times' rendering of the Kennedy years provides much more than a riveting first draft of history. Here we also witness the birth of modern America. The daily presence of thepresident and his family through modern media all started with Kennedy. As we follow his presidency in real time, aided by context from Richard Reeves and others, we come to understand better much of what  is happening in the country today."       
—Cokie Roberts, political commentator for ABC and NPR and author of Ladies of Liberty: The Women Who Shaped Our Nation
 
"A terrific introduction to the Kennedy presidency for those who did not live through it, and a startling reminder for those who did of how much happened in those 1,000 days, this compilation from The New York Times reveals the essential truth of the old adage that journalism is the rough draft of history. Commentaries by historians and current Times reporters fill in the gaps between what the journalists reported then and what we know now."
—David Nasaw, author of The Patriarch: The Remarkable Life and Turbulent Times of Joseph P. Kennedy

About the author
Richard Reeves, senior lecturer at the Annenberg School for Communication and Journalism at USC, is a presidential historian and syndicated columnist who has received dozens of awards for his work in print, television, and film.