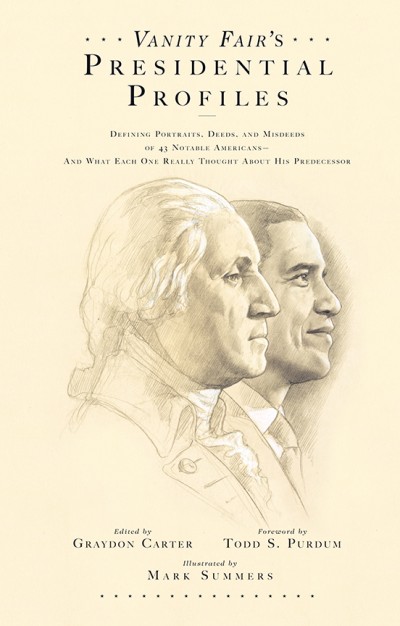 Vanity Fair's Presidential Profiles
Defining Portraits, Deeds, and Misdeeds of 43 Notable Americans--And What Each One Really Thought About His Predecessor
Hardcover
Price: $19.95
Out of stock
Available from:
Publication Date: February 1, 2010
Imprint: Abrams Books
Trim Size: 5 3⁄4 x 9
ISBN: 978-0-8109-8487-5
Page Count: 112
Illustrations: 44 full-color illustrations
Rights: World English
Forty-three men have held the highest office in the United States, making up an exclusive club of statesmen and sinners, grinds and slackers, winners and losers, Boy Scouts and rogues. They are profiled in incisive and entertaining commentaries written by Vanity Fair contributors Judy Bachrach, David Friend, David Kamp, Todd S. Purdum, and Jim Windolf that tell of their deeds, plumb their characters, and dispense the essential dish about their personal lives. Portraits newly drawn by the acclaimed artist Mark Summers illuminate each of them as vivid individuals. Also included: revealing remarks-in the presidents' own words-showing what each really thought about the man who had preceded him in the Oval Office, an introduction by Graydon Carter, and a foreword by Washington insider Todd S. Purdum.
From George Washington to Barack Obama, here is a memorable chronicle of America's, and the world's, most powerful men, combining history, biography, art, politics, and gossip--and covering international affairs, domestic affairs, and . . . affairs of the heart--in one small, indispensable volume.
Advance praise for
Vanity Fair's Presidential Profiles
"I have had the honor of interviewing every U.S. president since Richard Nixon. But oh, how I wish I had had a copy of
Vanity Fair's Presidential Profile
s. It is chock full of insights and information I would have relished."
-Barbara Walters, ABC News
"Just what we've come to expect from Graydon Carter and the talented teams he assembles for Vanity Fair projects—a collection of smart, well researched pieces, beautifully illustrated and filled with details and quotes we never seem to find elsewhere. This one is a keeper."
-Bob Schieffer, chief Washington correspondent, CBS News
"This is the story of who we are, as measured by those we have elected to lead us. White men, overwhelmingly…12 military generals among them. What else does it say about us? This is essential reading— a citizens' guide to American Presidents, written in classic American style. May we learn from all of them…the good, the bad, the ugly."
-Brian Williams, anchor and managing Editor, NBC Nightly News
"A must read for American history addicts like myself. It's also a fun resource for casual browsers who will enjoy its beautifully rendered illustrations and the pithy essays by America's greatest writers who have assembled biographical highlights and lively anecdotes that bring to life each of our nation's elected executives."
-Robert F. Kennedy, Jr.
"Deftly combines portraits and prose with Vanity Fair's unmistakable style. The result is an informative and entertaining chronology of American presidents."
-Vernon E. Jordan, Jr, senior managing director, Lazard Frères & Co. LLC, and chairman of the Clinton-Gore transition team
"A great historical contribution to the American library—an indispensible guide to those who aspire to public office. The Mark Summers illustrations are a magnificent study in character and leadership. Graydon Carter's and Todd S. Purdum's contributions are intellectually superb. Having covered ten presidents, I just love the book."
–Helen Thomas, columnist, Hearst newspapers
About the authors
Graydon Carter is the editor of Vanity Fair and the author of What We've Lost, about the consequences for America and the world of the administration of George W. Bush. Todd S. Purdum is the national editor and a contributor to Vanity Fair. Previously, he was Los Angeles bureau chief and a White House correspondent for The New York Times. Mark Summers is a Canadian illustrator. He is best-known for the illustrations of literary figures that are used in corporate branding by Barnes & Noble.